Training & know-how transfer
As of Friday, 22 January 2016, Energiring is a partner of the Consortium- Energiring, Petrad, and SOTS :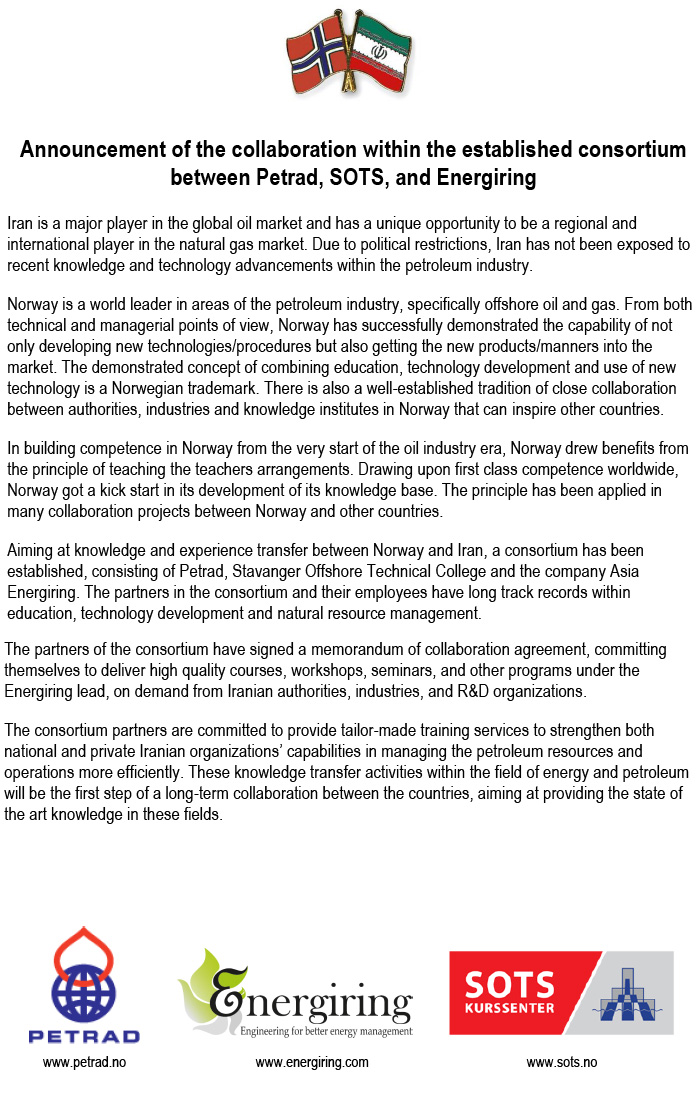 Energiring offers tailor-made courses, seminars, and workshops bring together top-level managers from utilities, regulatory bodies, governmental organization, and supporting institutions to discuss state-of-the-art and learn the latest O&G management topics from high-ranking professionals.
Our programmes have been designed for senior public administrators, decision-makers, politicians, petroleum company professionals and others who are engaged in petroleum sector issues from societal, economical, and political perspectives.
Events are not only rich in information and provide substantive learning opportunities in a collaborative atmosphere, they are also a great networking occasion.
Subject areas and managerial programmes which we can be instructed using our international collaboration are:
Managing the petroleum sector: Decisions and capabilities

The national framework for petroleum resource management

Petroleum policy;
Energy sector policy;
International legislative framework for asserting rights over subsoil resources;
Petroleum legislation and regulations;
Institutions for regulating the petroleum sector: Responsibilities for managing resources, safety, the environment and revenues;
Licencing regime and process: Rights and obligations for firms to exploit petroleum;
Managing natural resources: General principles and international practice;
Managing the petroleum field life cycle;
Fiscal regime: Sharing value between State and firms;
Promoting the country for petroleum investments;
Environmental assessments and environmental management;
Strategic sector planning;
Government involvement in field and infrastructure planning;
Providing for joint use of pipelines and infrastructure;
Reporting and monitoring petroleum operations.

Governance for securing the benefits

Macro-economic impacts of petroleum operations in a country;
"Dutch disease" and similar risks;
Requirements for proper revenue management;
Projecting the impacts of petroleum on national finances;
Effective application of petroleum revenues for long term national benefits;
Verifying the values: Challenges of auditing revenues and costs;
Corruption: Causes and mitigation;
The Extractive Industries Transparency Initiative (EITI);
Other international initiatives for extractive resource management;
Norway's experience in managing the petroleum sector and revenues.

Petroleum economics

Project economics based on discounted cash flow analysis;
Understanding petroleum company financial statements and strategic implications;
Decisions under uncertainty;
Exploration economics and decision support;
Development economics and decision support;
Practical use of spreadsheets for economic decision analysis;
Petroleum fiscal systems: Sharing value through taxes and contracts;
Fiscal design considerations;
Cost estimation and budgeting;
Accounting and cost control;
Petroleum and the national economy.

Capabilities for managing the sector

Training need assessments;
Capability development as a systematic endeavour;
Organisational development;
Effective team work in interdisciplinary and intercultural settings;
Effective presentations;
Conducting formal meetings;
Negotiations;
Structured analysis and decision processes.
The petroleum sector context: Nature, technology, society and markets

Petroleum, development and environment, the global challenges
The global oil market and trade
Utilisation and international trade in natural gas
Oil and gas as part of national energy supply
Industries based on oil and gas
Local content and national capacity building 
Download the list of main managerial courses in Farsi. Also, see here for more details on our capacity development events by country (1989 – 2015).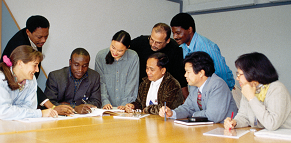 Technical Training and Applied Research
The consortium enables close and interactive collaboration between Norwegian and MENA's applied research and training institutions for common projects in O&G technical sector. Such cooperation would immediately address both sides' needs to solve specific technical problems.
We also provide intensive skilled training and technical workshops/courses featuring some of the most knowledgeable international instructors in the O&G industry, both onshore and offshore. Our technical courses are tightly focused on a single topic and are designed to give attendees in-depth knowledge and solid takeaways on that topic. See one of our international technical course proposal packeages 2016 here. Also, see here for a summary of our more recent international activities till 2015.
To ensure the delivery of professional services of the highest standards, Energiring can provide not only highly qualified staff, engineers, and scientists, also state-of-the-art equipment, software, and modern facilities to meet the requirements of private companies and public organizations, if needed.
Specialised areas of the proposed technical training are:
Drilling and well service
Process, production, and IOR/EOR

Hydraulics, materials, mechanics, and welding
Safety, risk, and environmental management

Customized Programmes
Customized programmes are designed for a specific occasion or purpose. These programmes can vary in types, length, and depth, ranging from a course lasting several days, to a tailored long-term programme, and from short delegation visits to capacity building programmes over several years, in which regular components are mixed with case studies and modules requested by the client. These all are often provided in cooperation among Energiring, its international partners, and private/public institutions in Middle East.
Tailor-made training caters directly to the needs of each client. This means that courses can be organized for groups of various sizes, from one or several organizations, sectors or regions. They can be designed to upgrade knowledge and skills, to introduce new technologies, or to strengthen sector performance.
From operational point of view, tailor-made training can be delivered on-site in local regions, or based at Petrad/SOTS workplace in Norway, or a combination of the two. A mixture of training instruments are used, including lectures, workshops, group work, presentations, role-plays, case studies and study tours to project sites throughout Europe or in the region where the training takes place.
In terms of demand assessment, programmes for comprehensive capacity building usually start with a training needs survey, which is a method for assessing the thematic areas and capacity building methods most urgently needed by the target institution. For this purpose, the Consortium selects only the finest instructors with industry experience in the areas they instruct for the training operations.
A customized programme can contain one or more of the following themes and modules:
Training need assessment;
Customized courses: Emphasis on teaching;
Seminars: Emphasis on exchanging insights;
Workshops: Emphasis on addressing a particular issue which needs to be resolved;
Scheduled course participation;
Delegation visits: At sites or institutions with particular relevance for the target group;
Formal education opportunities: Attendance at university studies etc. for key personnel;
Mentoring: Access to experienced personnel for advice;
Consultancy: Solving particular tasks in cooperation between our experts and personnel of counterpart institution(s);
Research studies: Comprehensive analysis and report on particular issues.
You can choose the location, duration and timing. Before ordering, our consultants can talk with you about your training needs and skill gap, if you prefer.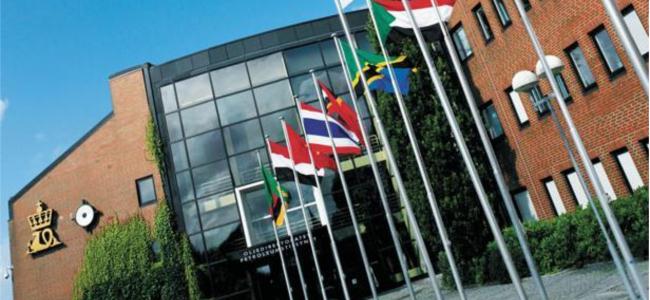 For more detailed information and/or to order a customized event according to your specific demand, please do not hesitate to contact us.
Advisory services for upstream O&G
Our advisory services include but not limited to these areas:
Drilling and well service
Process, production, and IOR/EOR
Hydraulics, materials, mechanics, and welding
Safety, risk, and environmental management; and
Managerial issues.
Applied R&D
Our O&G consortium enables close and interactive collaboration between Norwegian and foreign applied research institutions for common projects in O&G technical sector. Such cooperation would immediately help the clients to solve their specific and sophisticated technical problems.
Innovative petrochemical products